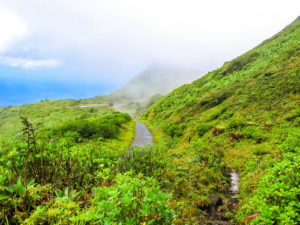 The island of St Lucia is perhaps one of the most breathtaking islands in the Caribbean, but this island has more to it than just beautiful beaches. The geological makeup of the island makes it stand out from its sister islands across the eastern Caribbean region. One such feature is the magnificent Qualibou volcano, popularly known as the La Soufriere Volcano.
Getting to this hot spot can not be easier. No need to buy fancy hiking gear or other equipment to commute here. Dubbed as the only drive-in volcano in the world, a simple drive can lead you to this geographic wonder.
Facts
La Soufriere does not look like your typical volcano, as it has collapsed. While it has been given dormant status, it does not look inactive at all. Bubbling hot springs that spew sulfur give a glimpse into the island's volcanic beginnings approximately 300,000 years ago. La Soufriere is also one of the hottest and most active geothermal areas within the Caribbean region. The highest point of elevation of the volcano is 2,549 feet.
The last record of major geologic activity was in 1766 when there was an explosion of hot steam as ashes. There was also one minor event in the 1990s when some minor shallow volcanic earthquakes were recorded. The sulfur springs release a combination of iron, sulfur, copper oxide, calcium oxide, and magnesium. This creates a scent similar to that of rotten eggs which also stain the rocks a green color.
Traditional Beliefs
In the earlier days of the island, the Arawak Indian tribe thought the mud pools were home to their God of Fire Yokahu. Whenever there was intense geologic activity, the Carib Indian tribe would offer sacrifices because they believed the gods were angry.  
Mud Baths
The benefits of the volcanic mud of La Soufriere draw tourists from around the world. The sulfur and mud are said by the locals to have healing properties which are good for soothing mosquito bites, arthritis and eczema. In addition, the mud does wonders for your skin and you can wash off in the warm waters after. The temperature recorded at these springs have been hotter than 212 degrees fahrenheit, but comfortable enough offering one of the best bath experiences you will ever have.
So what are you waiting for? There is so much to do on this beautiful island. As you prepare your itinerary for your next trip, consider Dave Charles taxi service for your transportation needs. We are located near Hewanorra International Airport and can pick arrange for rides between the airport, your hotel, and any other trips around the island. Contact us by phone at 1-758-715-4573 or visit us online.