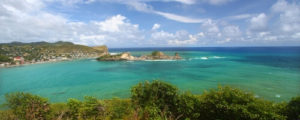 Saint Lucia offers a wide variety of authentic cultural experiences. From tasting the fruits at a local market, to sunbathing on one of our many pristine beaches, Dennery St Lucia is widely beloved among tourist. Within this island there is a rich cultural history that spans from the island's British and French history.
Dennery got it's name from Count d' Ennery. He was the Governor General of the Windward Islands from 1770 to 1776. Once a busy little village with markets where meat, fish and vegetables were sold, Dennery has become a prime destination on the island. Dennery is the place to be for the SeaFood Fiesta where street vendors set up along side run shops and bars where you can find a friendly, relaxed atmosphere moving to the riddum of reggae music.
There is something for everyone and we at Dave Charles Taxi service will be glad to guide you to the most popular excursions. Here is a list of activities to keep you occupied after you've left the beach.
Eco Tourism
Dennery is set in the Mabouya Valley, where there is access to the beach and to the forest. Barre de L'isle Forest Reserve is a nature preserve a few miles from the heart of town. If you've had enough of the beach, there are at least 6 major waterfalls to check out. These include:
Diamond Falls
Enbas Saut Falls
La Tille Waterfall
River Rock Waterfall
La Tile Waterfall
River Rock Waterfall
Sault Falls
Toraille Waterfalls
Botanical Gardens and Parks
If you enjoy being surrounded by beautiful tropical vegetation, Mamiku Gardens is a must. Located south of central Dennery, it includes a collection of tropical plants surrounding the ruins of a house built in the 1700s.
For another hit botanical experience, take a rendezvous in King George V Gardens. These gardens are centrally located to many other attractions.
Historical Sites
Thinking about taking a stroll back in time? There are plenty of historic sites to behold in the town of Dennery.
Fort Charles
Located 8.7 miles from central Dennery, Fort Charles was built in 1764 by the French and amazingly it still maintains some of the original architecture.
Cathedral of the Immaculate Conception
This cathedral in the past and present functions as the center of St Lucian cultural life. Vacationers have the opportunity to walk in and enjoy the beautiful stained glass windows as well as the ceiling decorations.
Museums
Consider taking a trip to one of our many museums to immerse and educate yourself in the St Lucian culture.
St Lucia Folk Research Center
This museum displays historical artifacts that highlight the culture people on the island. There is also a wide variety of literature, articles, and videos that are related to the St Lucian culture.
Le Pavillon Royal Museum
Commonly known as the center of St Lucia's historic and cultural conservation movement. It is home to many antiques and historic documents which present the history of St Lucia's government.
So what are you waiting for? Be sure to book your next vacation to St Lucia today. For your transportation needs remember to book Dave Charles Taxi. Contact us for more details about the services we offer!